Arabian Nights
is a the opening song from the
Aladdin (1992 film)
.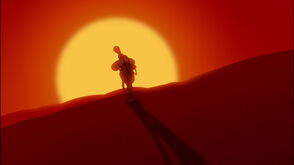 It was performed by The Peddler (singing voice by the late Bruce Adler). An alternate version of the song utilizing lyrics from the original demo was later featured in The Return of Jafar, performed by Brian Hannan. This version was also used as the main titles theme for the Aladdin TV Series.
Aladdin and the King of Thieves
features a reprise performed by Adler originally recorded for the first film.
Movie Lyrics
Oh, I come from a land, from a faraway place.
Where the caravan camels roam.
Where it's flat and immense.
And the heat is intense.
It's barbaric, but hey, it's home.
When the wind's from the east, and the sun's from the west and the sand in the glass is right.
Come on down. Stop on by.
Hop a carpet and fly.
To another Arabian night.
Arabian nights! Like Arabian days.
More often than not are hotter than hot.In a lot of good ways.
Arabian nights!
'Neath Arabian moons.
A fool off his guard, could fall and fall hard.
Out there on the dunes.
TV Series Lyrics
Follow me to a place where incredible feats are Routine every hour or so.
Where enchantment runs rampant.
Yes wild in the streets.
Open Sesame, here we go!
Arabian Nights like Arabian Days.
They tease and excite. Take off and take flight.
They shock and amaze, Arabian Nights.
Like Arabian Days, more often than not.
Are hotter than hot.
In a lot of good ways.
Pack your shield, Pack your sword.
You won't ever get bored.
Though get beaten or gored, you might, come on down.
Stop on by hop a carpet and fly.
To another Arabian Night Arabian Night!
Trivia
When the film was first released to cinemas, the line, "Where it's flat and immense and the heat is intense" was originally, "Where they cut off your ear if they don't like your face". Due to the line being offensive, it was changed shortly after being released.
all information on Arabian Nights came from http://disney.wikia.com/wiki/Arabian_Nights
Gallery
Video