Bleach Memories of Nobody
is a 2006 Japanese anime film that was directed by Noriyuki Abe and written by Masashi Sogo.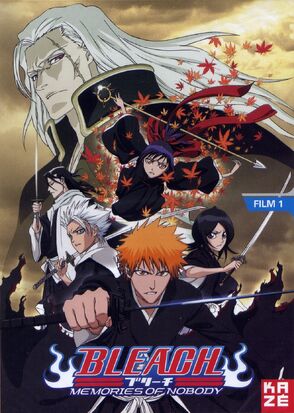 This is the first Bleach film. The film was release in theaters in Japan on December 16, 2006. The film was release on DVD in Japan on September 5, 2007. To promote the film, the opening and closing credits for episodes 106 through 109 of the Bleach anime use footage from the film. The film's theme music is Overcome the Thousands of Nights (千の夜をこえて) by Aqua Timez. The film exists outside of the main Bleach continuity, and is not intended to fit into the existing storyline. This movie had a limited theatrical run in the U.S for two nights on June 11th and 12th, 2008. It was release on DVD in the U.S on October 14, 2008. It aired on Cartoon Network's Adult Swim Block on September 5, 2009 in Bleach's normal time slot. In Karakura Town, there has been a sudden outbreak of unidentifiable spirits called "blanks" (vacant souls) while in the skies of Soul Society, the real world has been reflected. A mysterious female shinigami called Senna has appeared before Ichigo along with a man named Ganryu, leading a group called the "Dark Ones".
Plot
In the SRDI, as members monitor a screen displaying the two worlds, 12th Division 3rd Seat Akon enters the room and asks a member what the status is. Stating the space is still expanding, the member says they have sent the Onmitsukidō in to investigate. As he states they will begin the infiltration shortly, Rin Tsubokura, saying he has found them, states they will pass through the Dangai in ten seconds and will enter the new dimensional space. As he opens communication lines, an Onmitsukidō member exclaims something has happened to the exit.
As the panels displaying the Onmitsukidō members' current status flip to reveal they are in danger, the member, saying they have an emergency, states infiltration of the target has failed. As the member calls for backup, Rin, saying they have received their SOS, states they are sending backup. As SRDI members shout orders to one another, screams are heard on the other end. As Akon asks if they can hear them and why they cannot get into the space, the panels slide again to reveal the Onmitsukidō members have been killed, leaving the SRDI members to stare at the screen in horror.
Meanwhile, in the Human World, as Humans go about their day, a female Plus runs through the trees as an unseen presence roars. As one of the Humans notices something, a tree falls over onto the sidewalk as Ichigo Kurosaki, Rukia Kuchiki, and Kon run towards it. As Rukia states it is coming, Ichigo, reaching into his pocket, pulls out his Substitute Shinigami badge as Rukia pulls out her Gikon dispenser. Running towards the dust cloud, Ichigo enters his Shinigami form and jumps as Rukia follows suit. As a Hollow emerges from the dust, Ichigo cuts its forearm off.
As they land on the ground, the Hollow leaps away, prompting Ichigo to tell it to come back. As the Hollow jumps from tree to tree, the curious Humans, unable to see it, watch from the ground. As the roaring Hollow continues to leap, Ichigo chases it and cuts its tail off in midair, causing it to fall and crash through several trees. As it continues to charge, Ichigo stands in its path and blocks its attack with Zangetsu. When it jumps back, Ichigo leaps into the air and cuts it in half.
As the purified Hollow fades away, Rukia, approaching with the Plus and Kon, states the Hollow was after the Plus. When Ichigo looks at the Plus, she recoils in fear, prompting Rukia to tell her he only looks scary. As Ichigo tells the Plus it is time to go, Rukia says Soul Society is not a scary place, and it is where all departed Souls go to live. When the Plus begins to protest, Ichigo says if she stays here, more Hollows will come after her. Putting the glowing hilt of Zangetsu to the Plus' forehead, Ichigo performs Konsō, turning the Plus into a ball of light which ascends into the sky.
As Ichigo, Rukia, and Kon walk down the steps, they are greeted by Chappy in Rukia's Gigai. Returning to her Gigai, Rukia tells Ichigo to not use his badge so recklessly and elbows him in the ribs. As he clutches his side in pain, Rukia grabs Kon and forces his lips to Ichigo's. As they both gag, Rukia reminds Ichigo he has Kon and states she is tired of him tossing his body all over the place and leaving her to take care of it. When Ichigo asks why, Rukia demonstrates how someone would react if they saw his body lying on the ground.
As Rukia says the commotion always means more work for her, they see an ambulance and a crowd of people around Ichigo's body, which is on a stretcher. As a doctor states he is going into cardiac arrest, Rukia says she told him so as Ichigo runs towards his body. Returning to his body, Ichigo bolts up, shocking the people around him, and says he is fine. As the doctors try to restrain him, an exasperated Rukia uses her Kikanshinki, which glows before creating an explosion of pink smoke.
As Ichigo, Rukia, and Kon run out of the park, Rukia states it is lucky they had the Kikanshinki. Calling Kon over, Rukia throws him at Ichigo, who asks why she did so. When she states it would be pointless if he did not keep Kon with him, Ichigo asks why he has to carry him. Kon complains about being stuck with Ichigo, who throws him on the ground, stomping on him, and tells him to shut up. Hearing her Denreishinki beep, Rukia pulls it out and sees multiple red dots on the screen.
When Ichigo asks if it is another Hollow, Kon jumps on his face, prompting him to state he got dog feces in his mouth. As Kon says they are even, Ichigo resumes stomping on him. When Rukia tries to get his attention, Ichigo says he is not done kicking him yet before feeling a large amount of Reiatsu. Running down the street, Rukia states it is near the station as Ichigo, carrying Kon, follows her. When Ichigo asks why there is such a large amount of Reiatsu, Rukia, saying she does not know, states she has never felt anything like it.
Arriving at the station, Ichigo and Rukia see a mass of white figures with pink, conical heads. When Ichigo accidentally bumps into one, it and several others look at him before moving away. When Ichigo asks what they are, Kon claims they are white ghosts. Noting the people at the station cannot see them, Rukia says they must be Souls. As Ichigo states they do not have Chains of Fate on their chests, Rukia states they have no choice and exits her Gigai once more. When Ichigo pulls out his badge, Rukia tells him to use Kon.
Pulling Kon's pill out of his plushie, Ichigo, wiping it off on his shirt, swallows it and exits his body. Following Rukia, he tells Kon to hide somewhere. Telling Ichigo to not just leave him here, Kon is surrounded by the figures. Contacting Soul Society, Rukia tells Ichigo to see if he can perform Konsō on the figures. As Rukia explains the situation, Ichigo draws Zangetsu and states he will give it a shot. When he presses the hilt against one of the figures, nothing happens, and the figure moves past him. As Ichigo tells Rukia it does not work, Rukia states she has lost the connection to Soul Society.
As the wind picks up, the heads of the figures turn red, and they begin advancing towards Ichigo and Rukia. Seeing Rukia being grabbed by one of them, Ichigo pushes them out of the way and runs towards her as Kon struggles to keep them back. Knocking the figures out of the way, Ichigo assumes a battle stance as Rukia wonders what they should do. As a tornado forms behind the figures, a female Shinigami moves through the crowd and cuts through the figures as Ichigo wonders who she is. As the Shinigami, jumping over them, lands behind them and continues cutting through the figures, Rukia asks what she is doing.
As the Shinigami is lifted into the air by a tornado, Kon frees himself from one of the figures' body and sees a man standing in front of him. As the Shinigami spins in midair, Rukia states she is going to release her Zanpakutō. As the Shinigami calls out the release command, Ichigo appears in front of her and attacks her, stopping the release. As Rukia calls out to him, Ichigo, asking the Shinigami what she is doing, states the figures are not Hollows. Telling Ichigo to be quiet, the Shinigami kicks him to the ground and begins to spin once more. As Ichigo yells at her for stepping on his face, the Shinigami releases her Shikai, Mirokumaru, and creates a tornado, which destroys the figures as it moves through the crowd.
Asking what is happening, Kon gets up, wondering where the man went, but is knocked down by the figures, who move over him. As the Shinigami continues to destroy the figures, her tornado creates gusts of wind, which affect the Humans nearby. As the wind dies down, Ichigo is surprised to see the figures are gone. As Rukia wonders what happened, the Shinigami, now in a Gigai, happily exclaims she got them before noticing Ichigo and Rukia. Demanding to know when she entered her Gigai, Ichigo asks what she is, prompting her to state she is a Shinigami.
When Ichigo says he knows this, the Shinigami states he should introduce himself before asking so many questions. After Ichigo introduces himself, the Shinigami introduces herself as Senna and prepares to leave. When Ichigo asks her why she wiped out the figures, Senna states it should be obvious. When Rukia asks her if she knows something about the figures, Senna runs over to a store window and states yellow does not suit her. When Ichigo tries to get her attention, she points out his body lying on the ground with three police officers next to it, one of which is reporting to the police station. As Ichigo notices Kon's pill on the ground, Senna states she has to get going. As Ichigo grabs her by the arm and pulls her along, Rukia calls him a fool.
In the Seireitei, 11th Division 3rd Seat Ikkaku Madarame, drinking sake, tosses the bottle to 7th Division Lieutenant Tetsuzaemon Iba and asks if he has had enough. As Iba tells him to not be ridiculous, Ikkaku asks if it is okay for a lieutenant to be drinking sake at noon, prompting Iba to state he has had so little he might as well be drinking water. When Iba shakes the bottle and states they are out of sake, Ikkaku says he told him he drinks too much.
When Iba tells him to calm down, Ikkaku grabs Hōzukimaru and asks if he wants to fight again. Saying the loser buys the next round of sake, Iba moves to the rooftop. As Ikkaku comments on him moving to high ground again, Iba states it is first come, first serve. Telling him to get ready, Ikkaku sees something behind Iba and stops mid-sentence, prompting Iba to ask what is wrong. Looking at the sky above Iba, Ikkaku, asking what is going on, sees a town through a hole in the sky which continues to expand.
At the fairground in the Human World, Senna, noting they have a Ferris wheel, states she wants to ride it next. When she asks Ichigo and Rukia what they wanted to talk about, Rukia demands to know which division she is in, prompting Senna to remind her she said she cannot keep track of things like this. As she tries to remember the number, Rukia, stating there is no doubt of her being a Shinigami because she wielded and released her Zanpakutō, says she must belong to a division, and there is no way she could forget which one she is in. When Senna asks why Rukia is here, Rukia begins to explain before Senna runs off laughing.
As Rukia tells her to wait, Senna states what division she is in does not matter. When Ichigo asks if she knows what the figures were, she, denying this, notices a dog and asks his owner if she can pet him. Petting the dog, Senna, stating she felt like she needed to do what she did, says it was a hunch. As Ichigo asks what is up with her, Rukia, telling him she is going back to Soul Society, states she cannot contact them and is concerned about the things they witnessed earlier. As she tells Ichigo to not let Senna out of his sight, Ichigo tells her to not order him around. As Kon begs her to not leave again, Rukia throws him at Ichigo and states she is counting on him.
As Ichigo wonders why she is acting so serious, Kon gets Ichigo's attention, prompting him to tell Kon to not shout in public, and points out Senna is gone. As Ichigo runs towards her, Senna says he is persistent and runs off as Ichigo tells her to wait up. As Ichigo chases her through the mall, Senna states Ichigo said if she answered his questions, he would listen to what she had to say. When Ichigo denies saying this, Senna decides to play tag as Ichigo states he never said anything like this.
Running into a pavilion with a small theater, Ichigo tells her to come back. Asking him what he is doing here, 10th Division Captain Toshiro Hitsugaya approaches him with his lieutenant, Rangiku Matsumoto. When Ichigo recognizes them, Hitsugaya tells him to address him as Captain Hitsugaya. When Ichigo asks what they are doing here, Hitsugaya says they have to talk. As a small child runs past, Ichigo says he is busy. As Hitsugaya walks away and tells him to come with them, Ichigo runs after him and tells Senna he will be right back. As a child points out Ichigo is talking to himself, Senna darts past him.
At the Urahara Shop, Kisuke Urahara, saying he understands, states Rukia went to Soul Society, and they just missed her. As he asks where they begin, Hitsugaya explains how a town in the Human World appeared in the sky above the Seireitei, the communications office simultaneously detected a massive disturbance in the Human World's spiritual waves, and one minute later, they lost contact with everyone. When Ichigo asks what this means, Hitsugaya expresses exasperation at him not knowing.
Telling him to calm down, Urahara states he will simplify it for Ichigo. As Tessai Tsukabishi holds up a sketchbook, Urahara explains how there are the two worlds, the Human World and Soul Society, and how the Dangai lies between them and keeps them from touching. As Tessai reveals pictures illustrating Urahara's words, Urahara, noting Ichigo has been in the Dangai before, reveals a new dimension formed in the Dangai about three days ago.
Stating it grew bigger and bigger until it connected to both worlds, Urahara says it now acts as a lens, leading to the Human World appearing in the sky above Soul Society. As he states it resembles a mirage more than anything, Hitsugaya reveals they sent the Onmitsukidō in to enter the new dimension, but the mission ended in complete failure. Saying the only option left to them was to investigate the influx of new spiritual waves into the Human World, Hitsugaya states he is in charge of this mission.
When Ichigo asks why he was chosen, Rangiku states all the other captains refused. As Hitsugaya states this does not matter, Ichigo says it must have been "them". When Hitsugaya asks if he saw something, Ichigo explains how they were overrun by the figures. As Urahara states he is referring to the Blanks, Hitsugaya realizes the Valley of Screams must be involved. As Tessai holds up the sketchbook once again, Urahara, going over the process of death and reincarnation, reveals some Souls have accidents while in the Dangai, and are thus ejected from the cycle.
Stating the Souls wander aimlessly until they inevitably reach a certain spot, Urahara says this gathering creates a new dimensional space known as the Valley of Screams. Stating Souls in the Valley of Screams have their energy and memories separated in preparation for returning to the normal cycle, he asks if Ichigo is still with him. When Ichigo confirms he is, Urahara reveals the figures Ichigo saw are known as Blanks, Souls which have been separated from their memories. When Ichigo asks where their memories go, Urahara reveals they merge into one entity and return to the Human World, and this entity is known as the Shinenju.
Stating the Valley of Screams' appearance is a naturally occurring phenomenon, Urahara, saying they have seen it happen many times, states this one is a problem because it is connecting the Human World and Soul Society. When Ichigo asks if this is really so out of the ordinary, Hitsugaya, saying he would not call two stars being connected ordinary, states this is the same thing. As Hitsugaya states someone is doing this intentionally, Kon hops down from Ichigo's shoulder and recounts seeing the man in the midst of the Blanks. As Hitsugaya notes Kon stating the man was wearing armor, Urahara asks Kon if he can remember the specifics.
As Kon tries to remember, Urahara puts on a Gokon Tekkō and knocks Kon's pill out of the plushie. Picking it up, Tessai tells Ichigo he will take it in for analysis. Thanking him, Urahara states if this was intentional, it is being done for evil purposes. When Ichigo asks what the perpetrators want, Urahara theorizes they are searching the Human World for the Shinenju. Stating he has got a feeling this is what they are doing, Urahara, saying they will work on learning about the enemy, tells Ichigo to continue watching over Karakura Town, for he is certain they will appear again, and to find the Shinenju if possible.
Later, Ichigo states this is easier said than done and bumps into a woman. Apologizing, he runs into a pavilion. As he wonders where he goes from here, Senna states he really did come back. Seeing her on the second floor balcony, he notes he still has a lot to ask her about. Saying he is "it", Senna runs off as Ichigo tells her to listen to him and runs after her. As he continues to chase her through the crowd, an announcer tells the crow to prepare to see an amazing feat. As a man drinks an entire bottle of juice, another man counts down from ten. When the announcer says this happened too fast, the two men pull off his jacket and pants.
Looking around, Ichigo sees Senna standing on top of a roof. As the strings of bulbs light up, the crowd below wonders what she is doing. Putting her foot onto one of the lines, Senna begins walking along it, prompting a nearby film director to order a man to aim the spotlight at her. Continuing to walk along the rope, Senna states this is nice before falling off the line. As the crowd watches in horror, a flurry of autumn leaves are stirred up where she lands. As people wonder where she went, Senna appears behind Ichigo and dances as the crowd cheers. As she asks the crowd how it was, Ichigo grabs her hand and pulls her away as the man on stage complains about them stealing the show.
At a restaurant, Senna eats a sandwich and says if Ichigo had told her he would treat her to dinner, she would have answered everything. Wondering if she has any money, Ichigo asks if she knows anything about the Blanks and the Shinenju. Stating this is the first time she has heard of them, Senna asks who the people looking for the Shinenju are. When Ichigo states this is what he wants to know, Senna asks why they want it, prompting him to say he does not know. When Senna asks what the Shinenju looks like, Ichigo states he has no clue, prompting Senna to state this will not work.
Saying Ichigo will have to wait for the Blanks to return, Senna states she will help him on one condition: he needs to take her for a ride on the Ferris wheel. As Ichigo states he is not going to fall for this, Senna stands on her chair, prompting Ichigo to note she likes high places. As Senna explains how everything becomes crystal clear when one is up high, Ichigo comments on her hair ribbon. When Senna says red looks better on her, Ichigo asks where she got it. When she states she tried it on in a store and forgot about it, Ichigo brings her back to the store, where he pays for the ribbon. When the clerk asks if it is for his girlfriend, Ichigo says this is not the case.
Exiting the shop, Ichigo offers the packaged ribbon to Senna, who, stating she cannot believe he went back and paid for it, says he is more virtuous than he looks. Tossing her the package, Ichigo tells her to shut up, for he hates stuff like this. Thanking him, she asks if they will go on the Ferris wheel. When he denies this, she calls him a cheapskate, prompting him to state high school students are not very rich. Walking away, she says she is going to the bathroom.
Putting the ribbon on in front of the mirror, Senna says Ichigo has his good points. Walking out of the bathroom, she, seeing a river through a window, recalls a girl running alongside the river towards her father. Welcoming him home, she reaches for him, but tumbles to the ground as he dissipates around her hand. Recalling a graveyard at which a funeral is being held for the man, Senna sees a family eating dinner together. Meanwhile, Ichigo, leaning against a wall, says she is taking too long. Trying to find her, he notes the place was crowded a moment ago before sensing something.
As a traffic light blinks, Senna enters the graveyard she saw in her memories. Walking through it, she, looking at the headstones, once again sees the funeral procession. Seeing her face on the portrait of the deceased, she realizes it is her funeral. As she notices her mother and father, a Blank tries to grab her. As she backs away from it, more Blanks materialize. Continuing to back away, she dodges a surprise attack from Jai. Back-flipping away, she asks who he is. As he says she is sharper than he thought, she exits her Gigai and asks what he wants.
When he states she needs to come with him, for their leader, Ganryū, commands it, Senna states she does not know who he is talking about. As Jai says she does not need to, Riyan says he told him to only say what was necessary. As Benin comments on him jumping out on his own, Jai states he will capture her in a second. As autumn leaves swirl around her, Senna clashes with Jai, who comments on her attacking without warning before punching her away. As she looks up, Jai lands on her as Benin tells him to not squash her. As Riyan tells him to hurry, Jai lifts Senna up by the throat and asks if she is ready to go.
Telling him to wait, Ichigo asks where he is going. As Jai asks where he came from, Ichigo draws Zangetsu and cuts Jai's arm off, freeing Senna. As Jai yells in pain, Ichigo asks Senna why she wandered off, prompting her to tell him she can do what she wants. Saying she cannot do so yet, for she has not kept her promise, Ichigo sees Jai struggle to his feet and apologizes for cutting off his arm. As Jai states he will not forget this and promises to get revenge, Riyan, telling him to stop, states the time has not come yet.
As he and the others vanish in darkness, Ichigo wonders what they mean by time as a cursing Jai vanishes as well. When Senna tries to move away, Ichigo stops her and asks her why she ran away after he treated her to dinner, prompting her to state she did not run away. When Ichigo asks why she is here, she reveals her family is buried here. As Ichigo tells her to quit with the stories, Senna, stating it is true, says she can remember it all. Stating they are memories from when she was still alive, she says her house used to be around here. As she promises to help him tomorrow and prepares to leave, Ichigo stops her and asks if she is going to ignore how she was just attacked.
At the Kurosaki Clinic, Isshin Kurosaki stands in shock as Karin Kurosaki states Senna being attacked by bad guys sounds fishy. Saying this is how it is, Ichigo said he told her she can stay the night. When Senna introduces herself, Yuzu Kurosaki introduces herself in return and welcomes her to their home. As Senna thanks them for letting her stay there, Ichigo walks up to his room and asks if Senna can sleep in Yuzu's bedroom and use their bath. When Karin asks Isshin what is wrong, he and Yuzu creep up the stairs as Karin expresses shock at Yuzu joining in.
As Ichigo states he will kick Senna out once they prepare her room, Senna, stating boys' rooms are boring, says Ichigo's family members seem like fun people. Comparing them to her father, Senna recalls a man grabbing her by the hair and hitting her. Noticing her pained expression, Ichigo asks if something is wrong, which Senna denies. When Ichigo asks why those men attacked her and if they said anything, Senna states they mentioned a man named "Gan-something" wanted her brought to him. When Ichigo asks if there was anything else, she, stating there was not, says if he had not come, she might have heard more. As she falls back and kicks her shoes off, Ichigo tells her to not sleep in his bed.
As they continue to argue, Yuzu, listening through the door along with Isshin, tells Karin how Senna said she would sleep in his bed. When Karin explains this by stating Ichigo is a guy, Yuzu puts her hands over her ears in horror while Isshin wonders if he should stop his son or let nature take its course. Pushing the door open, which sends Isshin and Yuzu flying, Ichigo demands to know what they are doing. As Karin notes he is angry now, Yuzu tells him the bath is ready, prompting him to tell Senna to take a bath and get to bed. When she does not respond, Ichigo looks into his room and sees her fast asleep on his bed.
Later, Urahara contacts Ichigo and asks if he learned anything about the Shinenju. Saying he did not, Ichigo reveals he ran into the people whom Kon saw, prompting Urahara to ask if he is hurt. Stating he is fine, Ichigo says they ran away as soon as he showed up. Saying they have learned a few things, Urahara reveals their analysis of Kon's memory led them to the true identity of the armored man Kon saw in the crowd of Blanks.
Stating they determined he belongs to a clan which was exiled from Soul Society after a territorial dispute, he says this explains their motives for attacking, but their true goal is still a mystery. Recalling Senna stating she has memories from when she was alive, Ichigo asks Urahara if it is common for Shinigami to retain their memories from their Human life. Stating it is exceedingly rare, Urahara asks Ichigo what this is about, prompting him to say he was just wondering.
The next day, at the station, Senna asks if the Blanks are going to appear again. Saying he does not know, Ichigo states their only clue is the Blanks appearing here. As Senna complains about it being boring, Ichigo notes there are many more people here than usual. As Senna walks away, Ichigo states it is usually quiet around this time and, recalling sensing something at the mall, tells Senna to stay close to him.
When he does not receive a response, Ichigo sees Senna is no longer there and calls for her until she appears at the corner behind him and calls him over. Running over to her, Ichigo tells her to not just run off before seeing a crying Plus. As he asks what is wrong, Senna stops him, introduces herself to the Plus, and asks what his name is. When he says his name is Tomoya, Senna asks him to tell her what is wrong. When he says his father is gone, Senna asks if he was with him, and Tomoya, confirming this, states they were driving to a festival, but when he woke up, his father was gone.
As Ichigo says his father must be in Heaven now, Tomoya, saying he is not, states his dad is looking for him, prompting Senna to say they should all look for him together. As Tomoya tells her where to go, Ichigo stops Senna and begins to tell her they cannot go because they are busy, only for her to state there are no more clues here. As the two head off, Ichigo sighs in exasperation and follows them. As they walk all over town and up a hill, Ichigo asks how long they will do this.
As he states there is no festival this way and Tomoya's father cannot possibly still be here, Senna, stating they will find one of them, says Tomoya will have to leave this world soon, and he has a long journey ahead of him. Stating it would be sad if they did not grant him one last wish first, Senna says she cannot perform Konsō on him like this as Ichigo recalls performing Konsō on the Plus in the park. Turning to him, Senna states she wants Tomoya's last memory to be a happy one.
When Tomoya calls to her, Senna asks what is up and runs over. When Tomoya pulls her into an enclosed area, Ichigo runs after them and sees a festival in the pavilion. When Tomoya points out his father is not here, Senna tells him to not worry and states they will keep looking. As they walk, Senna, saying she is glad it is still here, states she came here a lot when she was a kid. As Ichigo begins to say something, they hear a man calling Tomoya's name.
Realizing it is his father, Tomoya runs towards him and tearfully hugs him. Apologizing to him, Tomoya's father thanks Ichigo and Senna. As Senna states they are welcome, Tomoya's father says this is all thanks to her, prompting her to state she did not do anything. Noting she has not noticed, Tomoya's father reveals the souls gathered here led him to this place. As Tomoya notes Senna led him here in the same way, Tomoya's father says it is time to go, and they fade away as Tomoya bids them farewell.
Looking behind him, Ichigo sees the area has returned to normal, with Human shops and shopkeepers. Seeing a man walk by, Ichigo, confronting him, sees his face and is reminded of the Blanks. As he lets go of him, Senna, beginning to ask why people around her keep disappearing, tries to tell Ichigo the truth. Attempting to comfort her, Ichigo is distracted when a Senkaimon appears.
Voice Cast
Japanese
English
Johnny Yong Bosch as Ichigo
Michelle Ruff as Rukia
Derek Stephen Prince as Uryu
Jamieson Price as "Chad"
Stephanie Sheh as Orihime & Isane
Gina K. Bowes as Senna
Quinton Flynn as Kon
Michael Lindsay as Kisuke
Michael Sorich as Tessai
Wendee Lee as Jinta, Ururu, Rin & Benin
Wally Wingert as Renji
Dan Woren as Byakuya
Steve Staley as Toshiro & Shuhei
Megan Hollingshead as Rangiku
David Lodge as Kenpachi
Stevie Bloch as Yachiru
Vic Mignogna as Ikkaku & Mue
Brian Beacock as Yumichika
Terrence Stone as Mayuri
Travis Willingham as Akon
Neil Kaplan as Genryusai Shigekuni Yamamoto
Steve Kramer as Shunsui
Liam O'Brien as Jushiro
Karen Strassman as Sui-Feng
Grant George as Izuru
Steve Cassling as Tetsuzaemon
Patrick Seitz as Isshin
Kate Higgins as Karin
Janice Kawaye as Yuzu
Troy Baker as Ganryu
J.B. Blanc as Jai
Kirk Thornton as Riyan
Kyle Hebert as Bau
Trivia
In the film, the special ability of Suzumebachi is different than its canonical counterpart. Since Kubo had not yet shown what it actually did. In the manga and anime, the victim's body is obliterated by a butterfly-shaped crest. However when she is stabbed a second time, Benin is bifurcated and she fades away instead of being destroyed.
all information on Bleach movie 1 came from http://bleach.wikia.com/wiki/Bleach:_Memories_of_Nobody