Bleach Fade to Black I Call Your Name
(君の名を呼ぶ) is the third Bleach film.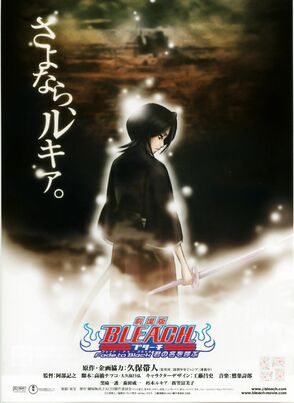 The film was released in Japan on December 13, 2008. The film was release on DVD in Japan on September 30, 2009. The film's screenplay was written by Natsuko Takahashi, who is a screenwriter for the anime series. In the English version, the film is just call
Bleach Fade to Black
. The film was release on November 15, 2011 on DVD for the U.S. To promote the film, the opening and closing credits of the Bleach anime from Episode 197 - 201 use footage from the film. A mysterious reiatsu (spiritual particle) explosion occurs in the center of Seireitei in the Soul Society, causing it to be destroyed. At the exact same time, a major change overwhelms
Rukia Kuchiki
, which leaves her losing something important inside.
Kisuke Urahara
sends
Ichigo Kurosaki
to the Soul Society to investigate the disturbance. Upon reaching the Seireitei, Ichigo is attacked by several shinigamis, that were once allies, who have no memory of him and Rukia. Now alone and on the run, Ichigo must find the missing Rukia and uncover the cause of the mysterious incident before it's too late.
Plot
In the Seireitei, as 12th Division Captain Mayuri Kurotsuchi presses dozens of keys, several gauges fill up, and pipes expel steam. Continuing to type, Mayuri leans toward his computer as he notices something and puts his finger to the screen. As electricity crackles from the system, Mayuri turns around and watches as a flower-like machine emerges from the ground and opens to reveal a vial. Appearing next to the flower with Shunpo, Mayuri states he has completed it.
Laughing, he picks up the vial. When the electricity goes out, Mayuri demands to know who is there. As he looks around, a scythe-wielding figure appears behind him and slashes through him. As Mayuri stumbles, the vial drops from his hand and falls to the ground, losing its glow. Looking up, Mayuri sees a massive machine and wonders what it is. Calling out to him, 12th Division Lieutenant Nemu Kurotsuchi runs up to him and asks if everything is alright.
When Mayuri demands to know who she is, she expresses confusion and begins to approach him. Telling her to stay back, Mayuri says she came here thinking she would apprehend him and runs out of the room as Nemu calls after him. Running through the hall, he trips and falls as Nemu asks what is wrong. Screaming in horror, he tells her to stay away and runs to his computer. As he turns around and tells her to stay away, the scythe-wielding boy smiles as the vial glows in his hand.
When the power comes back on, Mayuri backs away in confusion as someone stares at him from an alcove. As the system crackles with electricity, Mayuri grabs his Zanpakutō and releases its Shikai, Ashisogi Jizō, as Nemu appears behind him and grabs him. As she asks what he is doing, Mayuri tells her to let him go. Slashing at the air in front of him, he breaks free and stabs his Zanpakutō into his computer. As several loud pops are heard, a voice states abnormally high levels of Reiatsu have been confirmed inside of building seven of the SRDI.
As the voice says destructive activity has been detected on the top floor and an extremely dense cloud of Reishi is currently spreading throughout the area, dozens of Shinigami gather around the building. As the voice requests emergency assistance from all of the available Shinigami of each division, 6th Division Lieutenant Renji Abarai runs up to 9th Division Lieutenant Shūhei Hisagi and asks what this is all about.
As Hisagi states he does not know, a white substance oozes from the clouds above and coalesces into a snake crackling with electricity, which attacks the Shinigami below. As more snakes form and attack, creating blobs of white ooze everywhere they strike, Hisagi tells the Shinigami to retreat as Renji wonders what the snakes are. As they move away with Shunpo to dodge an attacking snake, 7th Division Lieutenant Tetsuzaemon Iba tells the others to get back and destroys the head of one of the snakes.
Continuing to slash at the snake, he is enveloped by the ooze. As the Shinigami flee from the spreading ooze, several SRDI members surround Mayuri. As one of them begs him to put down his sword, Mayuri tells him to not come near him. Slashing at them, he demands to know what they are trying to do to him. As he pants, 11th Division Captain Kenpachi Zaraki greets him. Turning around, Mayuri slashes at Kenpachi, only for Kenpachi to block with his Zanpakutō.
As Mayuri continues to attack him, Kenpachi says he always wondered when Mayuri would finally lose his mind. Screaming, Mayuri leaps back and activates his Bankai, Konjiki Ashisogi Jizō, which extends blades from its chest and attacks Kenpachi. Blocking, Kenpachi is forced back before being pushed out of the building. As several snakes approach, a grinning Kenpachi sees Konjiki Ashisogi Jizō become covered with the ooze and wonders what happened before seeing the snakes coming at him. Slashing them away, Kenpachi is dragged down by the encased Konjiki Ashisogi Jizō.
As the ooze swells up from where Konjiki Ashisogi Jizō hit the ground, Kenpachi lands and becomes stuck in the ooze. Calling it a nuisance, he looks up as several snakes crash down on him. As the ooze pours through the streets, more snakes rise from it and crash into sections of the Seireitei. As the Shinigami run away, the snakes move toward the center of the Seireitei. Running down the stairs, Rukia Kuchiki wonders what is going on.
Putting a piece of paper in her shihakushō, she begins to run before hearing a girl's voice stating she cannot go. Turning around, she put her hand on her Zanpakutō and demands to know who is there. As she begins to draw her Zanpakutō, a girl rises up from the ledge in front of her. Floating in front of Rukia, she says they came to erase her existence. As she moves away, the scythe-wielding boy appears behind her. As she turns around, he slashes through her.
As Captain-Commander Genryūsai Shigekuni Yamamoto, 4th Division Captain Retsu Unohana, 8th Division Captain Shunsui Kyōraku, 13th Division Captain Jūshirō Ukitake, 7th Division Captain Sajin Komamura, and their lieutenants and 3rd Seats watch the ooze spread, the snakes attack more Shinigami and destroys several buildings. As 6th Division Captain Byakuya Kuchiki watches this as well, the girl and scythe-wielding boy appear on top of a building, with the boy carrying Rukia under one arm.
Crouching down, the girl states it serves them right and she hopes every Shinigami dies. Saying all the Shinigami have ever done is take and all the two of them have ever done is lose, the boy drops Rukia, whose pupils have grown larger. In the Human World, as Ichigo Kurosaki looks out of his window, he senses something. As he states something seems odd tonight, Kon looks at a piece of paper. When Ichigo asks what is so fascinating, Kon reveals he is reading a letter which Rukia left behind.
As he says he has no idea what is written because it is in some kind of code, Ichigo takes the letter and states he will take a look. Saying it is a bunch of gibberish, he asks if the drawing she provided is her clue and states it is ridiculous. When he tosses the letter away, Kon grabs it and tells Ichigo he needs to treat Rukia's message with more respect. When he says it could be something important, Ichigo tells him to not be stupid and asks who this "Rukia" person he keep referring to is.
Expressing surprise, Kon asks what he is talking about and states Rukia is Rukia. When he asks if Ichigo has lost his mind, Ichigo says Kon is the one who has lost his mind and states he is tired. As he says he will call it a day and turns off the light, Kon tells him to wait a minute and states he is not done here. As he says Ichigo cannot just ignore this, Ichigo knocks him off of the bed, sending him flying into the corner.
Lying down and closing his eyes, Ichigo sees Rukia and recalls the time he spent with her. Remembering how he saved her from her execution and how she gave him her Shinigami powers, Ichigo bolts up. Stating he remembers, Ichigo turns the light on and tells Kon to wake up. When Kon tells him to leave him alone and asks what he wants, Ichigo takes the crumpled note from him and looks at it.
Saying he remembers, Ichigo states he has gotten messages like this from Rukia before, and the drawings were used to decipher the code. Reading the decoded message out loud, he says Rukia is returning to Soul Society to take care of some business, and she will be back in a few days. As Kon looks at him, Ichigo expresses confusion. At the Urahara Shop, Ururu Tsumugiya gives Ichigo a cup of tea, which he thanks her for.
As a blushing Ururu takes the plate and leaves the room, closing the door behind her, while Jinta Hanakari watches, Kisuke Urahara states Ichigo wants to know about someone, whose name he does not recognize. When Ichigo says her name is Rukia Kuchiki, Urahara pretends to recognize her before asking who she is. When Ichigo asks what he is talking about, for Rukia is one of his best customers, Urahara asks if he is sure about this, for the name is not familiar to him.
Pulling out his customer list, Urahara states there is such a name on the list. As Ichigo says he told him, Urahara apologizes and states he really does not recall any such person. As Ichigo wonders what is going on, Kon says he does not know and reminds Ichigo he forgot who Rukia was for a period of time. As Ichigo states something may have happened to Rukia, Urahara says he is not sure if this has anything to do with Rukia, but something incredible happened in the Seireitei last night.
As Urahara reveals Mayuri went crazy and destroyed his own lab, Jinta, Ururu, Yoruichi Shihōin, and Tessai Tsukabishi listen outside the door as Urahara states a massive amount of Reishi was released as a result, and a third of the Seireitei has been heavily damaged. Saying he is wondering if the two situations are somehow connected, Urahara states it could explain why their memories are being affected, for they may be under attack.
As Ichigo expresses surprise, Urahara asks what his relationship is with Rukia. When Ichigo asks if this is important, Urahara stares at him. When Ichigo says she is a very close friend of his, Kon climbs up to his shoulder and tells Urahara to help them. As he states they are wasting time and need to go to Soul Society, Ichigo grabs him by the head and pulls him off. When he asks Urahara to open the Senkaimon, Urahara agrees to do so.
In the Seireitei, 1st Division Lieutenant Chōjirō Sasakibe approaches Yamamoto and reports the unusual leakage of Reishi has finally settled. Saying they have begin investigating, Chōjirō states each of the Gotei 13 has begun deploying inside of the grounds. As a hole opens in the sky, Ichigo and Kon fall out. Screaming, they plummet towards the ruined section of the Seireitei, creating a small dust cloud on impact.
Voice Cast
Japanese
English
Johnny Yong Bosch as Ichigo
Michelle Ruff as Rukia & Dark Rukia
Wally Wingert as Renji
Quinton Flynn as Kon
Dan Woren as Byakuya
Debi Mae West as Hisana
Doug Erholtz as Kisuke
Wendee Lee as Ururu & Yoruichi
Vic Mignogna as Ikkaku
Brian Beacock as Yumichika
David Lodge as Kenpachi
Stevie Bloch as Yachiru
J.B. Blanc as Sajin
Karen Strassman as Sui-Feng
Dan Woren as Chojiro
Lex Lang as Marechiyo
Liam O'Brien as Jushiro & Zabimaru
Steve Staley as Toshiro & Shuhei
Megan Hollingshead as Rangiku & Nemu
Steve Kramer as Shunsui
Kate Higgins as Retsu
Laura Bailey as Rin & "Young Sister"
Terrence Stone as Mayuri
Neil Kaplan as Tetsuzaemon & Shigekuni
Spike Spencer as Hanataro
Richard Cansino as "Young Brother"
Trivia
In the movie, Kenpachi Zaraki stands in midair momentarily before being dragged down by Konjiki Ashisogi Jizo, despite not knowing how to use Hohō.
all information on Bleach movie 3 came from http://bleach.wikia.com/wiki/Bleach:_Fade_to_Black
Ad blocker interference detected!
Wikia is a free-to-use site that makes money from advertising. We have a modified experience for viewers using ad blockers

Wikia is not accessible if you've made further modifications. Remove the custom ad blocker rule(s) and the page will load as expected.