He Lives in You
is a song that was recorded for the CD Rhythum of the Pridelands.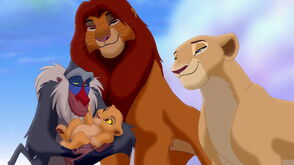 The music and lyrics were written by Mark Mancina, Jay Rifkin and Lebo M. The Song is performed by Lebo M, Maxi Anderson, Max Ngcobo, Khanyo Maphumulo, Khululiwe Sithole and Rose Stone. A pop version of the song was recorded by Tina Turner and was featured on the compilation album,
The Lion King Collection.
The song features English lyrics mixed in with some Zulu lyrics, similar to some of the lyrics sung in the song
Circle Of Life
, including the lyrics "Ingonyama nengw' enamabala" (Here is a lion and a leopard) and the background lyrics of "Hela hey Mamela" (Hey, Listen).
Lyrics
Night and the spirit of life. Calling Oh, oh, iyo Mamela (Listen) Oh, oh, iyo and a voice. Just the fear of a child Answers Oh, oh, iyo. Oh, mamela (Listen) Oh, oh, iyo Ubukhosi bo khokho (Throne of the ancestors) We ndodana ye sizwe sonke (Oh, son of the nation) Wait there's no mountain too great. Oh, oh, iyo. Hear the words and have faith. Oh, oh, iyo
Have faith. Hela hey mamela (Hey, listen)
Chorus : He lives in you, he lives in me. He watches over. Everything we see Into the water. Into the truth. In your reflection. He lives in you
Trivia
The song is probably referring to Mufasa's relationship with Simba.
all information on He Lives in You came from http://disney.wikia.com/wiki/He_Lives_in_You
Gallery
Video