Inazuma Eleven the Movie: The Invasion of the Strongest Army Ogre
(劇場版イナズマイレブン 最強軍団オーガ襲来) is the first movie of the Inazuma Eleven series.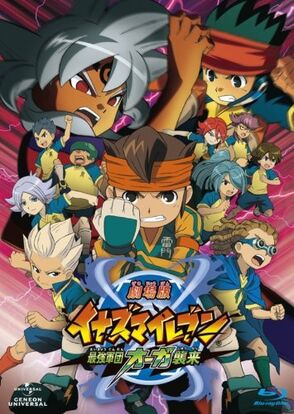 It is the movie version of the game Inazuma Eleven 3 Ogre. The film was release in theaters in Japan on December 23, 2010.
Plot
The movie starts off with Endou Mamoru arriving at Raimon for the first time and creating the soccer club. Throughout the movie, it shows how members ended up joining the club and facing different teams in the Football Frontier. The finals were coming up, and it was seen that Raimon were training a lot at the Inabikari Training Center. Raimon found out that the team they were playing in the finals, was the team Ogre, that defeated Zeus with a monstrous score of 36-0. When Raimon played them in the first half, they were struggling with them, not because they were so good, but because they were not even trying until each time Raimon had a chance to shoot. Every member of Ogre was just standing there, preserving their energy. Raimon's offence was getting too tired and soon started to doubt themselves. At the start of the second half, it was the same thing, nothing but struggles. But with only 10 minutes within the game left, Endou Kanon appeared and told Endou that he was here to help.
With Kanon, he brought Fubuki Shirou, Tobitaka Seiya, Utsunomiya Toramaru, Kiyama Hiroto and Fideo Ardena. Raimon started to come back, and eventually won the match. After, Endou says he was glad to play them in the finals and says to them they should play soccer again sometime. But Baddap Sleed, the captain of Ogre said to Endou that he's not going to fall for his spell for loving soccer. However Endou says that after the match, everyone are friends again, and Baddap starts to understand what he says. After Baddap was sent back to his timeline. The crowd starts to cheer, with Endou wondering why. He then suddenly remembers... they won the finals! Everyone celebrates and Endou ends the film with "we're Japans number one!!".
Voice Cast
Japanese
Junko Takeuchi as Endou Mamoru & Endou Kanon
Hirofumi Nojima as Gouenji Shuuya
Hiroshi Kamiya as Baddap Sleed
Hiroyuki Yoshino as Kidou Yuuto
Hiro Shimono as Fidio Aldena & Handa Shinichi
Jouji Nakata as Bauzen
Jun Konno as Asuka Domon
Mamoru Miyano as Fubuki Shirou
Megumi Tano as Kabeyama Heigorou
Miho Hino as Teppei Kurimatsu
Rie Kugimiya as Utsunomiya Toramaru
Takahiro Mizushima as Kiyama Hiroto
Tatsuhisa Suzuki as Eska Bamel/Eskaba
Nobuya Mine as Tobitaka Seiya
Yasuyuki Kase as Someoka Ryuugo
Yuka Nishigaki as Kazemaru Ichirouta
Yuko Sanpei as Afuro Terumi
Yuuki Kaji as Ichinose Kazuya
Kinryuu Arimoto as Admiral Hibiki
Kumiko Watanabe as Mistorene Calus/Mistore
Fumiko Orikasa as Aki Kino
Fuminori Komatsu as Shinji Yasui
Hinako Sasaki as Haruna Otonashi
Jun Konno as Jirou Usui & Zagomel Zande
Nobuya Mine as Drache Gyunther
Sanae Kobayashi as Natsumi Raimon
Seiji Sasaki as Elzes Killard
Kiyotaka Furushima as Kakuma Keita & Sandayuu Mishima
Kousuke Takeuchi as Revolutionary Rep B
Mamoru Miyano as Gebo Torangas
Yasuyuki Kase as Ginis Jinkins
Yuichi Nakamura as Ikka Stacks
Yuki Kajias Bubo Torangas
Takanori Hoshino as Revolutionary Rep A
Tetsu Inada as Oushou Kakuma
Tooru Nara as Daikko Buuka
Theme songs
Opening
Ending
The Strongest and The Best
Trivia
This is the first Inazuma Eleven movie.
The movie and the game have a difference. In the game, Baddap and the Ogre team appear to defeat Inazuma Japan. But in the movie, they directly attack Raimon.
It is seen Ogre defeated Zeus with a colossal score of 36-0.
Fubuki and Toramaru wore numbers that are different of when they played in Raimon and Inazuma Japan. In this movie, Fubuki wore the number 11 and Toramaru 9; in Raimon and Inazuma Japan, they were wearing 9 and 11 respectively.
The DVD release of the movie came with 5 extras.
all information on the Inazuma Eleven movie came from http://inazuma-eleven.wikia.com/wiki/Inazuma_Eleven_the_Movie:_The_Invasion_of_the_Strongest_Army_Ogre
Gallery