Mayumi Sho
(荘 真由美, born February 5, 1965 in Tokyo) is a Japanese voice actress.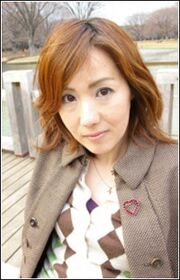 She formerly worked at Aoni Production and is now a director at Kekke Corporation. She is married to voice actor Keiichi Nanba. She was known as the original voice of
Chi-Chi
in Dragon Ball, and the original voice of Nonohara Miyoko in Kiteretsu Daihyakka.
Anime
Lead Roles are in bold
Adventures of the Little Koala (TV) – Mimi
Akuma-kun (TV) – Kirara (Ep. 16)
Angel Blade (OVA) – Col. Irena
Antique Heart (OVA) – Additional Voice
Aoki Honō (OVA) – Misao Kaizu
Appleseed (OVA) – Hitomi
Bikkuriman 2000 (TV) – Dou Pinguramaa
Black Jack (OVA) – Machiko Tsuzuki (Ep. 9)
Black Jack (TV) – Kazue Hanamura (Karte 55)
Bride of Deimos (OVA) – Minako Ifu
Bubblegum Crisis (OVA) – Naomi Anderson (Ep. 4)
Bug tte Honey (TV) – Mai
Bug tte Honey: Megaromu Shōjo Ma 4622 (movie) – Mai
Case Closed (TV) – Mai (Eps. 190-191)
Cat's Eye (TV) – Additional Voice
City Hunter (TV) – Uchi-Hime (Ep. 18)
Cream Lemon (OVA) – Mako Kiryu (Ep. 7)
Crystal Triangle (OVA) – Mina Katsuki
Dancougar - Super Beast Machine God (TV) – Sayuri
Dangaioh (OVA) – Mia Alice
Darkness of the Sea, Shadow of the Moon (OVA) – Lumi Kobayakawa
Delpower X Bakuhatsu Miracle Genki! (OVA) – Akise Hiroko
Doraemon: Nobita Gets Lost in Space (movie) – Freya
Dragon Ball (TV) – Chi-Chi & Princess Misa (Ep. 81)
Dragon Ball Z (TV) – Chi-Chi (Ep. 1 – 66)
Dragon Ball Z movie 1 – Chi-Chi
Dragon Ball Z movie 3 – Chi-Chi
Dragon Ball Z: The World's Strongest (movie 2) – Chi-Chi
ESPer Mami (TV) – Nina
ESPer Mami: Hoshizora no Dancing Doll (movie) – Tomoko
Fight! Iczer-One (OVA) – Nagisa Kano
The File of Young Kindaichi (TV) – Naoko Torimaru (Eps. 52-55)
Fujiko F Fujio no SF Tanpen Theater (OVA) – Emi (OVA 1; Ep. 2)
The Galaxy Railways (TV) – Raiza (Ep. 10)
Gall Force 3 - Stardust War (OVA) – Shildy
Gegege no Kitaro (TV 3/1985) – Additional Voice
Great Dangaioh (TV) – Mia Arisu (Ep. 11)
Hades Project Zeorymer (OVA) – Yuratei
Hidari no O'Clock!! (OVA) – Aoi
Highschool! Kimengumi (TV) – Kiri Ichido
Himitsu no Akko-chan (TV 3) – Madam Chin
Hoshi Neko Fullhouse (OVA) – Gannet
Kimagure Orange Road (OVA) – Girl (White Lovers)
Kimagure Orange Road (TV) – Female Student (Eps. 16, 42), Girl (Ep. 7), Kumiko Oda (Ep. 21) & Sukeban (Eps. 28, 37)
Kimama ni Idol (OVA) – Ayako
Kiteretsu Daihyakka (TV) – Miyoko Nonoka (2nd Voice) & Nonohara Miyoko (original)
Kodocha (TV) – Miyoko (Ep. 97)
Konpora Kid (TV) – Yumi Ine
Kouchuu Ouja Mushiking ~Mori no Tami no Densetsu~ (TV) – Babi ("circus group")
Lady Lady!! (movie) – Mary
Lady Lady!! (TV) – Mary
Little Women (TV) – Elizabeth "Beth" March
Lovely Complex (TV) – Umibozu's wife (Ep. 9)
Lupin III: The Fuma Conspiracy (movie) – Murasaki Inabe
Maison Ikkoku (TV) – Ikuko
Maison Ikkoku: Kanketsuhen (movie) – Ikuko
Maple Town Stories (TV) – Diana, Mick & Shoon
Megazone 23 (OVA) – Mai Yumekanoh (Part 1)
Megazone 23 Part III (OVA) – Jacob's Secretary
Mobile Suit Gundam ZZ (TV) – Haro & Qum
Mobile Suit Gundam: Char's Counterattack (movie) – Cheimin Noah
Mobile Suit SD Gundam Mk II (OVA) as Cheimin Noah
Mobile Suit Zeta Gundam (TV) as Haro; Kikka Kobayashi (Eps. 13-14); Qum
Mock & Sweet (TV) as An (Ep. 33)
Mo~tto! Ojamajo Doremi (TV) as Majo Miller
New Angel (OVA) as Ghost
Oishinbo (TV) as Yuko Kurita
Oishinbo: Kyūkyoku Tai Shikō, Chōju Ryōri Taiketsu!! (special) as Yuko Kurita
Ojamajo Doremi (TV) as Majoruka
Ojamajo Doremi # (TV) as Majo Ruka (Ep. 1); teacher (Ep. 11)
Ojamajo Doremi DOKKAAN! (TV) as Majo Miller
Ojamajo Doremi Na-i-sho (OVA) as Majo Ruka (Ep. 8)
Pretty Cure (TV) as Rie Misumi
Raining Fire (movie) as Yoriko Shinagawa
Saint Seiya: Evil Goddess Eris (movie) as Erii Aizawa
Shiawase Sou no Okojo-san (TV) as Neighbour Mangaka; Yuuta's Mother
Shin Cream Lemon (OVA) as Mina (Ep. 6)
Shin Kabuki-cho Story - Hana no Asuka-gumi! (OVA) as Hi-chan
Soreike! Anpanman (TV) as Ramen Tenshi
Soreike! Anpanman: Baikinman no Gyakushuu (movie) as Raamen Tenshi
Space Family Carlvinson (OVA) as Corona
Space Sagittarius (TV) as Libu
Transformers: Super God Masterforce (TV) as Mary (Ep. 6)
TWD Express: Rolling Takeoff (movie) as Lina
Vampire Princess Miyu (OVA) as Ranka (Ep. 2)
Vampire Princess Miyu (TV) as Miyu's mother (Eps. 22, 26)
Wanna-Be's (OVA) as Dream Angel
Welcome to the NHK (TV) as Shizue Sato
Wonder Beat Scramble (TV) as Mayumi
Yajikita Gakuen Dōchūki (OVA) as Masako
Zatch Bell (TV) as Sherry's Mom
Zillion (TV) as Cecille (Ep. 14)
Zoku Kuronekoyakata (OVA) as Fumi
Anime Films
Video Games
Lead Roles are in bold
Dragon Ball Z Budokai – Chi-Chi
Ys Book I and II – Lair
Quotes
Knownable Roles
Trivia
Gallery