One Jump Ahead (Reprise)
is a song performed by
Aladdin
in the animated movie with the same name.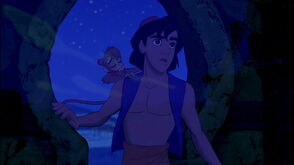 The song was sung after Prince Achmed called Aladdin a Street Rat in front of a big crowd of people. It's a kind of ballad version of
One Jump Ahead
.
Lyrics
Aladdin : Riff-raff, street rat.
I don't buy that.
If only they'd look closer.
Would they see a poor boy?
No siree, they'd find out there's so much more to me.
Trivia
Before the song ends, we see Abu being tuck in by Aladdin. A few seconds later after the song ends, we see Abu fast asleep.
all information on One Jump Ahead (Reprise) came from http://disney.wikia.com/wiki/One_Jump_Ahead_(Reprise)
Video
Gallery