"Part of Your World (Finale)"
is the closing song of
The Little Mermaid (film)
.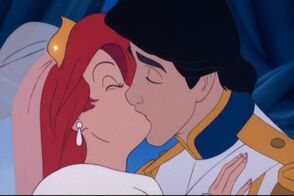 The song is played for
Ariel
and
Prince Eric
's wedding day after the defeat of
Ursula
. Ariel meets with her father to say goodbye one last time. She and him hug, and she whispers the words, "I love you daddy." After which the chorus begins.
Lyric
Chorus: Now we can walk!
Now we can run!
Now we can stay all day in the sun!
Just you and me!
And I can be, Part of Your World!
Trivia
During this scene, Sebastian and Chef Louis were originally going to become friends, but Jeffery Katzenburg preferred them as enemies, and asked for the scene to be changed where Sebastian gets his comeuppance.
This was the first proper Disney chorus since Robin Hood in 1973 and the filmmakers stated in the DVD commentary to be unsure of using a Disney chorus in the fear it would be deemed "cheesy". Though the use of the chorus hearkens back to an earlier time, it would be used once more in 1991's Beauty and the Beast.
all information on Part of Your World (Finale) came from http://disney.wikia.com/wiki/Part_of_Your_World_(Finale)
Gallery
Video