"Part of Your World (Reprise)" is a song from The Little Mermaid (film), which later become Ariel's theme song.
Lyrics
What would I give to live where you are?
What would I pay to stay here beside you?
What would I do to see you smiling at me?
Where would we walk. Where would we run.
If we could stay all day in the sun?
Just you and me and I could be Part of your world.
I don't know when.
I don't know how.
But I know something's starting right now.
Watch and you'll see.
Someday I'll be Part of your world!
Trivia
all information on Part of Your World (reprise) came from http://disney.wikia.com/wiki/Part_of_Your_World_(Reprise)
Gallery
Video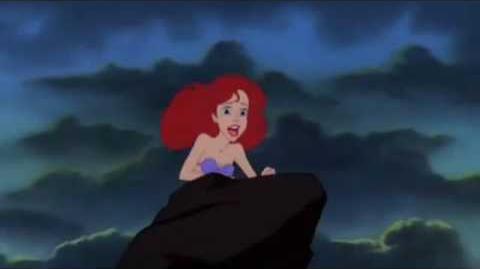 Ad blocker interference detected!
Wikia is a free-to-use site that makes money from advertising. We have a modified experience for viewers using ad blockers

Wikia is not accessible if you've made further modifications. Remove the custom ad blocker rule(s) and the page will load as expected.