Vance DeBar "
Pinto
" Colvig (September 11, 1892 – October 3, 1967) was an American vaudeville actor,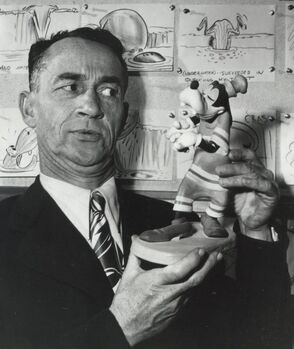 voice actor, radio actor, newspaper cartoonist, and circus performer, whose schtick was playing the clarinet off-key while mugging. Colvig was the original
Bozo The Clown
, and the original voice of
Goofy
. In 1993, he was posthumously made a Disney Legend for his contributions to Walt Disney films, including Snow White and the Seven Dwarfs and Dumbo. He was also put in the Clown Hall of Fame in 2004 for his performance as Bozo the Clown.
Animated TV Shows
Animated Films
Songs
Story Books
Quotes
"I gues I'm just naturally Goofy".
A little "goofy" himself, Pinto was fond of saying, "My mother covered me with a crazy quilt when I was born and I've been clowning ever since".
He once called Goofy "the epitome of all the hicks in the world and the easiest to portray. I guess that's because I'm a corn-fed hick, myself".
Trivia
Colvig was the original Bozo the Clown. Colvig had play the role of Bozo from 1946 to 1949. But played the role once again during the 1950s.
Out of the hundreds of voices he lent to a myriad of Disney characters, he said Goofy was his favorite.
Nickname himself "Pinto" because he had freckles on his face as a child.
Gallery
Ad blocker interference detected!
Wikia is a free-to-use site that makes money from advertising. We have a modified experience for viewers using ad blockers

Wikia is not accessible if you've made further modifications. Remove the custom ad blocker rule(s) and the page will load as expected.