Silver the Hedgehog
(シルバー・ザ・ヘッジホッグ) is a fictional character from the Sonic the Hedgehog series.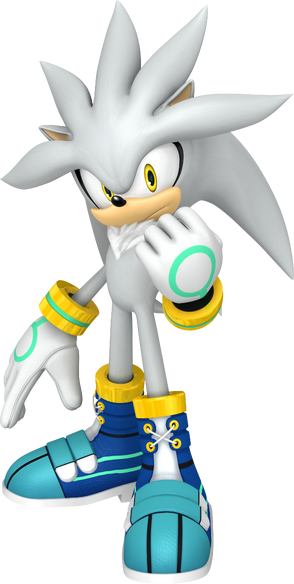 He is an anthropomorphic hedgehog hailing from at least two hundred years into the future where his role is to protect his time by changing the catastrophes of the past, thus preventing the ruining of his era. To aid him, Silver makes use of his psychokinesis, an ability from his time that is considered the norm, which allows him to move objects with the power of his mind. Silver is a kindhearted and well-meaning individual, driven by a strong sense of justice to right the wrongs of the past to uphold peace, though he is somewhat naive and immature. Despite the monumental tasks he may have on hand, he is an optimist and will do whatever it is required to protect the world.
Background
Silver lives in a destroyed future and goes to the past to change the future for the better. Silver is from at least two hundred or more years in the future of Sonic's world. In Sonic the Hedgehog (2006), while Sonic, Tails, and Knuckles are exploring the city in which he lives, Knuckles says, "How could this be our future?" The second and third times the player discovers that Silver's world is the future of Sonic's world is in Sonic Rivals and Sonic Rivals 2 respectively. Right before Eggman Nega turns Sonic's world into a card, Silver clearly states "What?! But that will mean my future will be destroyed too!" In Sonic Rivals 2, he says to Espio and Knuckles, "I have to save your world or else my world will be destroyed as well!"
Personality
Silver is best described as having "a strong sense of justice" and it is this personality trait that motivates him to head back into the past to correct the future. He believes in standing up for those who can't stand up for themselves. This led him to accept Blaze when everybody else was teasing her for her pyrokinetic abilities. When he pursues an enemy, he does so with a relentless determination. He makes alliances and rivalries very easily and takes people's word without question; this makes him easily tricked by others. According to his character profile in Sonic Generations, he is an optimist.
Although seemingly serious on the outside, an interview states that Silver is young and somewhat immature. Blaze comments on this several times and describes him as naïve and insecure when he is alone. Silver is also a regular sweetheart, always ready to protect those in need and lend a helping hand. He generally keeps a positive attitude and never gives up hope, no matter how objectively hopeless the situation.
Silver wears his heart on his sleeve. He feels anger and joy intensely and loudly, but his sadness is silent and hardly, if ever, marked by tears. He lets his rage control him and cheerfully remarks on the things that make him happy, but hardly says a word in his sadness, though it is visible to everyone. However, though he may feel sad, he never gives in to despair, always looking for a solution the right way. His determination and little regard for pain can make him a very frightening opponent.
Silver is very courageous and brave, willing to fearlessly sacrifice himself for another in a heartbeat. Utterly unflinching in the face of danger, he is courageous almost to the point of foolishness and is the focus on snuffing out evil with little regard for his own safety.
Despite Silver's naivete and general lack of critical thinking, he is not outright stupid. Even Eggman Nega called him perceptive, and Silver was the first to see through his otherwise perfect disguise. With little information to draw upon, he lets his intuition guide him, but as a relatively isolated person, he has little understanding of interpersonal relations or the subtle tools of manipulators.
He apparently has a competitive streak and gets a little snotty and a prickly attitude in the heat of the moment, as seen in Sonic Rivals 2; when you play as him and pass your rival, he'll say, "I'm better." or if you win a race or battle, he says, "Who's the best?" In Sonic Riders: Zero Gravity, when you win a race he says, "I am not to be trifled with!" and in Sonic Free Riders he sneers "'LATER!'" upon cruising past a fellow competitor. In Sonic the Hedgehog (2006), he generally refers to the Iblis monsters and Eggman's robots as "trash," and typically congratulates himself with a smug tone upon dispatching a roomful of them.
When meeting anyone that gets in his way, particularly in Sonic Rivals and Sonic Rivals 2, Silver can be very short-tempered and bossy towards anyone that's not explicitly helping him in his mission, sometimes even becoming directly hostile and start a fight on a bad choice of words.
When Silver is not focused on his current mission or does not have a task at hand, however, he is very friendly, helpful, and a good companion to have around.
Appearance
He is a white silver hedgehog. He has yellow eyes and white gloves. He wears red white sneakers. His mouth is yellow and her wears blue sneakers.
Abilities
Video Games
Silver the Hedgehog appears in the following video games:
Quotes
Relationships
Trivia
Voice Actors
Japanese : Daisuke Ono (all media)
English : Pete Capella (2005 – 2010), Quinton Flynn (2010 – Present)
Gallery