"
The Hula Song
" is a minor song from
The Lion King (film)
. This song is sung by
Timon and Pumbaa
.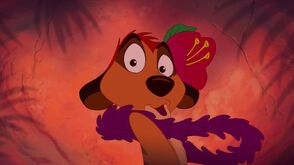 Lyrics
Timon : Luau! If you're hungry for a hunk of fat and juicy meat. Eat my buddy, Pumbaa, here because he is a treat.
Come on down and dine. On this tasty swine all you gotta do is get in line.
Are ya achin'
Pumbaa : Yup yup yup
Timon : For some bacon  
Pumbaa : Yup yup yup
Timon : He's a big pig
Pumbaa : Yup yup
Timon : You can be a big pig too, oy!
Trivia
The beginning verse is heard in the Lion King 1 1/2. But Timon fast for word it, because he didn't want to heard it.
all information on The Hula Song came from http://disney.wikia.com/wiki/The_Hula_Song
Gallery
Video