We Are One
, is a song feature in
The Lion King 2 Simba's Pride
. This song is sung by
Simba
(Cam Clarke) and
Kiara
(Charity Sanoy).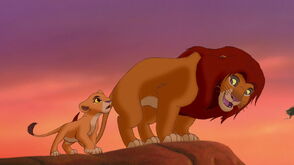 It follows Kiara's encounter with
Kovu
and the Outsiders. Which puts herself in danger, Simba explains how important she is to the pride and that the pride is one. This song is the musical equivalent to the first film's talk about the Great Kings of the Past with
Mufasa
and Simba.
Lyrics
Simba : As you go through life you'll see. There is so much that we don't understand. And the only thing we know Is things don't always go. The way we plan.But you'll see every day, that we'll never turn away. When it seems all your dreams come undone,we will stand by your side. Filled with hope and filled with pride. We are more than we are we are one.
Kiara : If there's so much I must be. Can I still just be me the way I am? Can I trust in my own heart, or am I just one part of some big plan?
Simba : Even those who are gone are with us as we go on. Your journey has only begun.Tears of pain, tears of joy one thing nothing can destroy. Is our pride, deep inside. We are one. We are one, you and I. We are like the earth and sky. One family under the sun all the wisdom to lead. All the courage that you need, you will find when you see we are one.
Trivia
Cam Clarke impersonates Matthew Broderick's voice in the Timon and Pumbaa TV Series as Adult Simba. He also is the second person to do Simba's singing voice as an adult.
all information on We Are One came from http://disney.wikia.com/wiki/We_Are_One
Gallery
Video